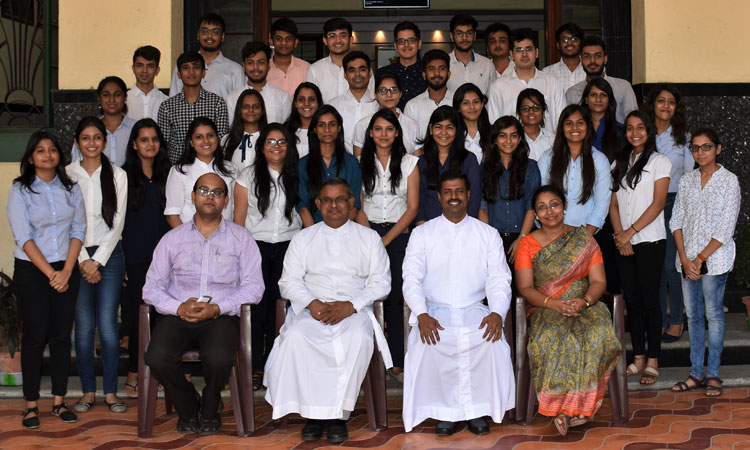 Note : (*Change in nomenclature following the University Grants Commission template on Under Graduate courses under Choice Based Credit System and approved by the University of Calcutta. It is effective for students enrolled from the academic session 2017-18).
Overview
Since its introduction in 2002, this three year honours program in management has evolved. This program is unique given the core values it imparts in terms of Intellectual Depth, Leadership Skills, and Social Responsibility. St. Xavier's approach to management education aims at the holistic formation of future leaders with unmatched professional competence and a strong ethical perspective. The curriculum is flexible and broad and gives students the opportunity to develop an academic program that is tailored to their ambitions and interests.
Objective
The aim of the B.M.S.(HONOURS) program is to offer high quality education in management and prepare students to:
Pursue higher education in management
Join industry, business, and non-profit organizations
Seek entrepreneurial venture
Key features
This prestigious HONOURS program in management leading to a BBA/BMS degree spans over three years and consists of six semesters. The existing BBA program offers specialization in two areas; Finance and Marketing. The BMS program will offer discipline specific elective papers in Finance and Marketing, Our priority has always been to offer an updated academic program with societal interface. In the various courses, emerging key concepts are included. The core emphasis is on critical thinking and discussion beyond texts. The program lays strong emphasis in connecting theory and application. In the various courses, key concepts are taught, and then students are exposed to case studies. To strengthen the skills of the students and to expose them to real life business situations, students are required to complete a term paper in Semester-IV and an internship in the third year leading to the project in Semester – VI. To help the students in their research and expose them to statistical software, SPSS is taught. The Department stresses excellence in both learning and research along with emphasis on experiential learning. The college lays strong emphasis on holistic education and the foundation course on inter religious studies and personality development are further endeavours in that direction. Students must complete and get credit on experiential learning.
The enduring strength of our department is the quality of our students. Students of the department excelled in academics and in extra-curricular activities. Several students got placed in top notch companies during the year through the placement cell of the college. Students have also performed well in various all India competitive management entrance examinations and joined leading business schools. Many students pursue higher studies abroad. Our students have also fared very well in CA and CS examinations as well. The College is committed to international exchanges and selected students of the department visit College of St. Benedict and St. John University, Minnesota, USA during October as a part of the student exchange program. The college also has semester exchange program with the State University of New York, Oswego, USA for meritorious students. Our students' community has always been very enthusiastic, and vibrant.They have actively taken part in extracurricular activities; attend various national and international fests organized by premier institutes.
The corner stone of any department is its faculty. We draw on the resources of our own regular faculty, as well as visiting faculty from the Industry, to offer quality business education. Our faculty members have always shown keen interest in collaborative research and published research papers in leading peer reviewed journals.