The Pink Letter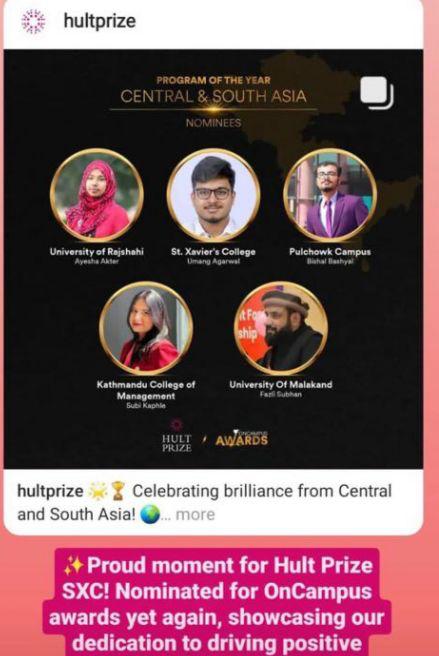 ON CAMPUS PROGRAM'22
The flagship event, OnCampus Program'22, was organized by Hult Prize, St. Xavier's College, Kolkata on 13 March 2022. The Program aimed to build and launch the most compelling social business ideas and start-up enterprises that tackle grave issues faced by people every day.
Students from 14 UG and 7 PG departments of the College participated in this event and pitched their startup ideas catering to this year's challenge of 'Getting the world back to work' by creating a total of 2000 jobs by the year 2024.
Before the inception of the event, an interactive training workshop under Mr. Gaurav Agarwal, Founder of SMVA Consultants & Cofounders Planet and Mr. Vishal Kumar, Founder of LWT Academy & Co-Founder of Cofounders Planet was also organized for all the participating teams.
With participation from 24 enthusiastic teams, we came across multitudinous projects that aimed to solve genuine social issues. The competition was hosted by Mr. Snehashis Sur, President, Press Club, Kolkata, assessed by 12 judges from different walks of life. The esteemed panel included renowned corporates and academicians who have expertise in different aspects of the business world, namely, Mr. Amit Roy, Managing Director, Operations Research Group, India Pvt. Ltd.; Ms. Karabi Bhattacharya Rao, Chief Manager, International Management Institute Kolkata; Ms. Pritika Burman, Senior Brand Executive, ITC Ltd.; Ms. Lina Ashar, Founder Emeritus, Kangaroo Kids and Billabong High International Schools; Mr. Avelo Roy, Managing Director, Kolkata Ventures; Mr. Rachit Poddar, Founding Partner, Marwari Catalyst, IVY Growth Associates; Mr. Rajesh Beriwal, Vice-President, Corporate Banking, The Hongkong and Shanghai Banking Corporation; Mr. Rajiv Ghosh, Chief Executive Officer, Selvel One Group; Mr. Aniruddha Banerjee, Senior Vice-President, Chief Sales Office, Spencer's Retail Ltd., Dr. K K Upadhyay, Professor and Chairperson & CSR, Centre for Sustainability, Birla Institute of Management Technology and Mr. Nikhil Chawla, Founder, Marbella Chain of Cafés.
ONCAMPUS AWARDS 22
In the aftermath, the OnCampus Program hosted by Hult Prize St. Xavier's College, Kolkata received nominations in all the categories for the 2022 CSA OnCampus Program of the Year Awards presented by the Hult Prize Foundation, being the only Program across the entire nation to be chosen as a nominee to represent India.
From July 1st to 3rd, 2022, two Core Committee Members of Team Hult Prize St. Xavier's College, Kolkata represented the College at the Awards Ceremony hosted in Nairobi, Kenya.
EXHULT, 2022-23
Hult Prize, St. Xavier's College, Kolkata hosted Exhult: Igniting Change, a precursor to the Hult Prize OnCampus Program, scheduled for 2023. Organized on Friday, November 4th, 2022, and Saturday, November 5th, 2022, the event intended to provide students of the College practical knowledge about the basics of entrepreneurship.
On the first day, Ms. Swati Gautam, Founder-CEO, NecessitySwatiGautam graced the occasion. She elucidated her journey as an entrepreneur and how challenging it was breaking multifarious entrepreneurial boundaries. For the second session, Ms. Aishwarya Biswas, Founder and CEO, Auli Lifestyle joined us for a candid conversation. From her experiences at Shark Tank India, to her journey with Auli, she delved deep into what makes entrepreneurs stand out in today's competitive world.
During the course of the second day, several workshops were organized to give students a real view into the business world. The first workshop witnessed Professor Chandradeep Mitra, Faculty, IIM Calcutta, Mentor & Advisor, IIM Calcutta Innovation Park, Founder & CEO, PipalMajik, and Co-Founder, Meta4Sight, who spoke about envisioning entrepreneurship. The second workshop was conducted by Mr. Anurag Singal, Owner, BetaFin Partners, Founder & Chief Mentor, CA Job Portal, Educator, Udemy and YouTuber. The final workshop was graced by Mr. Karan Kishorepuria, Entrepreneur, TEDx Speaker, Startup Advisor, Angel Investor, Partner, SVP India & Bostoninno's 25 Under 25, who highlighted the importance of startup analysis, pitch decks and finance.