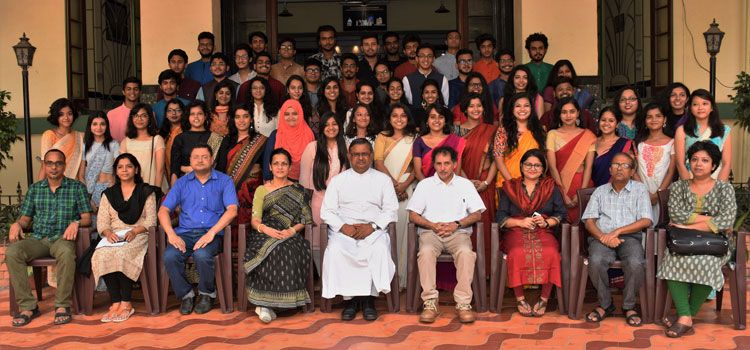 Brief on the department of Journalism:
The department of Journalism at St. Xavier's College (Autonomous), Kolkata started in 2003 as a Pass subject now offering papers as Generic Elective, Minor and Multidisciplinary courses. The department not only imparts theoretical knowledge to the students but tries to inculcate a sense of journalistic responsibility in them, preparing them for being an integral part in the nation's development.
Students from the department of Mass Communication and Videography, English, Sociology, Political Science and Bengali can opt for Journalism as a Generic Elective/Minor paper.
The course offers knowledge on Print, Radio, TV journalism and New Media as well as theoretical approaches to Journalism and Mass Communication studies. The course is designed in such a way that students are not only equipped with professional knowledge but are also inspired to pursue higher studies. As for the practical section of the syllabus, students use the central computer lab facility of the college. They also get trained on hosting webpages.
Ex-students of the department are working in several global, national and regional media houses. Students also get placed in newspaper and television channels as well as in many digital platforms which cover news, entertainment, sports etc from across the world. Many students also pursue higher studies in the same field from various Universities and Institutes in India as well as abroad. Reputed institutes like Xavier's Institute of Communication, Mumbai, Indian Institute of Mass Communication, Delhi and Dhenkanal, Asian College of Journalism, Chennai, London School of Economics and other media institutes in Australia, Canada, Ireland and London, see a regular flow of students from this department who go there for further specialization. Many students work with reputed institutions like NDTV, CNN-IBN, Times Now and various news organizations all over the country.