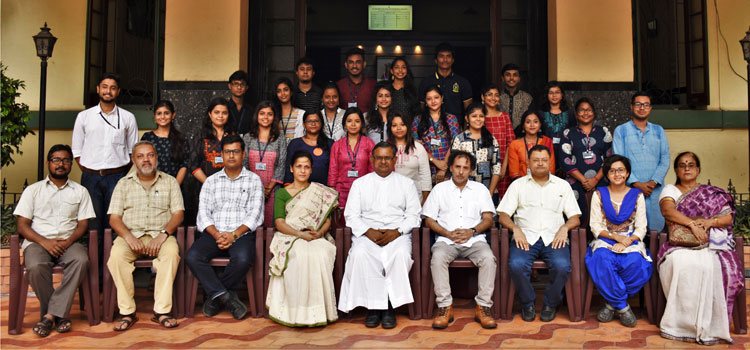 As a tribute to Gurudev Rabindranath Tagore on his 150th Birth Anniversary, the Department of Bangla, St. Xavier's College, Kolkata introduced the 3-year Honours course from the academic session 2012-2013. Since then the growth of this department has been consistent. The department has a rich past even when it offered only General and Ancillary courses. The activities of this department were prominent also for the illuminated existence of the Bengali Literary Society.
The faculty members of Bangla Department work truly with the team-spirit to deliver a course in Bangla Language & Literature that is rated as one of the bests at the undergraduate level. We feel proud, when we look back at our previous syllabus, framed for the session 2015 which seemed almost prepared to be offered as a CBCS type of modern one. It could take a meaningful shape only because of the constant support & encouragement from the College authority, the dedication of our teachers, hard work and determination of our students.
The aim of the Bangla Honours course is to give a holistic idea of the subject as well as to develop and to have the analytical abilities of the students, empowering them to address issues on language and literature with the contemporary points of view. The course and the teaching-learning procedure help to increase academic or scholastic abilities in them, and also to enhance the skill of a book-maker or book-designer or to establish themselves as translators or interpreters. Department of Bangla offers not only the Honours Course, but also a unique Generic Elective course under CBCS mode that is Comparative Bengali. Students from the own department and other departments can avail this course that gives an introduction to the wide range of Indian literature and World literature.
With immense hope and success the department has started its PG course in Raghabpur Campus from 2019. The students from the UG department feel comfortable to continue their higher studies under the same atmosphere. The Department is also planning to offer Ph.D. programme with great support from the authority, especially our respected Principal.