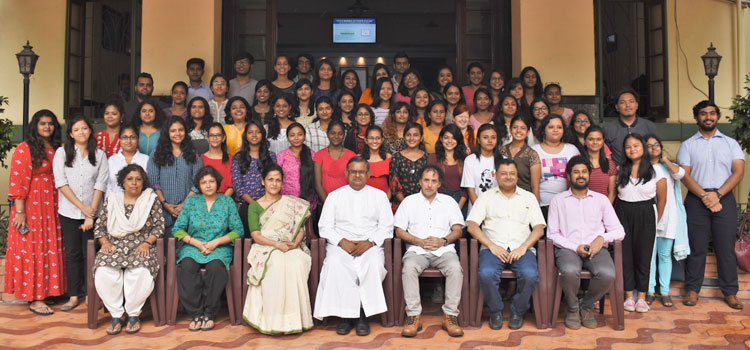 The relatively young department of sociology has been successfully able to carve a niche for itself in a short span of time since its inception in 2001. The department of Sociology aims to engender analytical and critical thinking among its students and has continuously endeavoured to incorporate the most contemporary debates in Sociology in its academic curriculum. After the college was granted autonomy (2006), the entire syllabus was restructured in light of changing trends in sociology both at the conceptual and methodological level. It was felt that the changes could not b affected without parallel changes in he curriculum. So while the monological method of teaching continued, it was supplemented with various kinds of practical exposures. Village trips were therefore organized for every batch of students so tat students learn how to relate theory with facts, not only that the village exposure helps the students to develop a perspective which they would not have attained otherwise.
It is a conviction that students are capable of creative thinking. To encourage the creativity in the students and also enable them to think critically, dissertation writing was made compulsory component of the curriculum. The students benefit immensely from their research work. This also enables them to become an independent thinker which stands them in good stead once they finish their graduation.
The results are palpable as students get through various national; and international institutions of higher education on the basis of competitive examination. Their achievements are bringing recognition to the department.
Recently the department formed the Xaviers Sociological Society to create a space for debates, discussions and film screenings on contemporary issues with the aim of bridging the gap between theory and practice of the discipline of sociology.
Apart from these efforts to benefit the students, the department got a UNICEF funding to act as a centre for their annual summer program on rural sanitation in 2008. The department is also engaged in establishing a partnership with College of St. Benedict and St. Johns University, Minnesota, USA. a group of twelve students are coming in January 2011 for a whole semester to do various credit based courses here and thereby get an exposure to a socio-cultural system that is different from theirs in every respect . The purpose of their education abroad is to widen and enrich their exposure and understanding of a fast changing world. It is hoped that students will be able to get similar exposure and thereby enrich their learning.
The department is making every effort to establish itself in a way where students not only enrich themselves but also stand out in whichever field they wish to pursue.
Objective
Sociology being a fundamental discipline in social sciences, it was important, from the beginning to build up the Department in a way that would enable students to develop matured and critical thinking. It was a challenge to the Department to instill in the students perspectives that would enable them not only to qualify for all kinds of professions and occupations but also to do so successfully. It was also hoped that the students would be able to pursue the quest of sociological understanding not only academically but also in practical application; and this too, not from a narrow sectarian point of view but from a critical and matured point of view.
Performance/ Placement
Students have been consistently performing well not only in the pre-autonomy days under Calcutta University but also under the autonomous system. This is further reflected in majority of them opting to do Masters in the subject. Many students qualify for outside universities as well and perform successfully. Even those who opt for various professions have been achieving excellence.
Future prospects
The department having established itself as a leading one in the college is looking forward to expanding to Post Graduate level; the purpose is to bring in more relevant and innovative courses that have greater prospects. With the advent of autonomy for the College, the Department of Sociology has developed a radically new syllabus that retains classical sociological insights as well as high contemporary relevance. It has also introduced a new method of teaching.