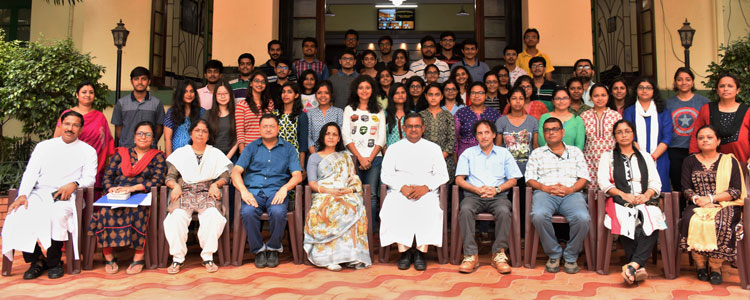 The Microbiology Department of the St. Xavier's College (Autonomous), Kolkata started its journey almost 15 years ago. Since its inception, the endless enthusiasm and indomitable zeal to attain perfection of both the faculty and the students made the department the best in research activity in the college. The able guidance and the heartfelt endeavor of the entire faculty have enabled the Department to prosper and grow into its present extortionate stature.
The Department of Microbiology has initiated two year Microbiology M.Sc. course on August 2010 and now has 10 faculty members representing different domains of Microbiology. Departmental students are usually involved in projects and present their papers in Indian Science Congress. The microbiology department conducts a two day seminar on Modern trends in Microbiology where the of 2nd year graduate students presents review papers. The field of microbiology is taken up by Dr. Arup Kumar Mitra, Ms. Debjani Dutta, Ms. Lopamudra Roy and Dr. Madhumita Maitra. The subject of Biochemistry is taken up by Dr. Sudeshna Shyam Choudhury, Dr. Kasturi Sarkar and Dr. Jaydeep Ghosh. Dr. Anindita Banerjee's expertise lies in the field of plant tissue culture and plant physiology. The field of molecular biology is taken by Dr. Mahasweta Mitra Ghosh. The Biophysical part of the syllabus is taught by Dr. Jaydip Ghosh and Dr. Riddhi Majumder.
Thrust Areas
Module based syllabus encompassing Microbiology, Biochemistry, Biophysics, Molecular Biology, Genetics, Instrumentation and Biostatistics.
Students are taught with audio and visual aids in the field of modern Biology.
Department has encouraged student based research and they have been participating in different seminars within and outside the state and have received many laurels for the Institution.
The students are encouraged to take up industrial or lab based training in the form of summer internship.
The Department also undertakes student centric learning in the form of paper presentations, writing and critical appreciation of scientific papers, etc.
All these activities clearly indicate that the Department is different from other traditional teaching learning centre in the form of student opportunity and development.
Research Projects:
Ongoing Projects
Dr. Arup Kumar Mitra and Dr. Mahasweta Mitra Ghosh has ongoing projects from WBDBT on the topics 'Arsenic mitigation from Plant microbe interaction along with an industrial project — Active Principles from mangrove plants and their anti-fungal, anti-bacterial and anti-cancerous properties' and 'Isolation of resistant bacteria from soil and their bioinformatics analysis' respectively.
Completed projects:
Many projects have been completed by the faculty members of the department.
Infrastructure:
Air-conditioned Lab with different state of art instruments, some of which are detailed below:
Laminar flow
Incubator Shaker, Multiple autoclaves
Cold Centrifuge
Deep Freeze
UV Visible Spectrophotometer
Trinocular Microscope
Air sampler
Gel electrophoresis unit with transilluminator
Blotting Apparatus
Digital balance
Table top microcentrifuge
Multiple refrigerators
Microwave and Hot air oven
PCR machine
Summer Training, Seminar and Collaboration
This department holds reputation for having students who are selected to various prestigious fellowships and institutions every year for their summer training. This year, one of our students have been selected for the prestigious Khorana Scholarship and is heading to the University of Wisconsin, Madison for summer internship. Many of our students have also qualified for the Indian Academy of sciences- SRFP fellowship and are placed in premium institutes all across the country like IISc Bangalore, IISERs, IITs as well as CCMB, Hyderabad for their summer training. Apart from this, students also intern in reputed laboratories like that of IACS, IICB, University of Calcutta, Jadavpur University and Bose Institute in Calcutta. Those interested in industry have also been sent for industrial training in companies like Cipla as well as Reputed hospitals including Institute of Neurosciences, CMRI and Medica.
The annual seminar Modern Trends of Microbiology-is organized by the 2nd year students of UG and PG every year. Invited lectures are delivered by eminent scientists from across the globe. Selected students present review topics based on recent research in microbiology,