---
On April 9, 2022, TEDxStXaviersCollegeKolkataconducted the third edition of its flagship event. The event was graced by five magnanimous personalities who have excelled in their lives and influenced many others. It was witnessed by 650+ individuals from 22 UG and 9 PG departments from our College. The entire event was widely covered by media, digital hoardings across the city by Selvel One, newspaper coverage by The Telegraph and radio by 91.9 Friends FM.
The evening commenced with the blessings of the Chief Patron of TEDxStXaviersCollegeKolkata, Respected Father Principal, Rev. Dr. Dominic Savio, SJ, who spoke about how TEDxStXaviersCollegeKolkatatruly proliferated a multi-hued spectacle of ideas that are worth spreading. We felicitated the dignitaries, post which Mr. Jimmy Tangree, Head, 91.9 Friends FM, took over as the host of the speaker session of TEDx talks.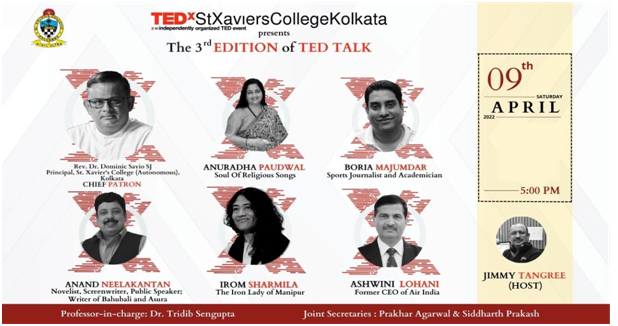 The first speaker was Mr. Boria Majumdar, a reputed sports journalist, academician and author. His insights on the initiatives by BCCI in women's cricket highlighted his focus on the progress towards gender parity in sports. The next speaker was Ms. Anuradha Paudwal, the veteran soul of religious songs. She spoke of how music has made her life pulchritudinous, spiritually and artistically, and it has kept her strong, along with her faith and self-belief, in lonely times.
Mr. Anand Neelakantan, the author of the Baahubali Trilogy, columnist, and screenwriter spoke about the journey of an individual's life, whilst pursuing their interests. Mr. Ashwani Lohani, former CEO of Air India and Present CEO of GMR Group, spoke of life being a box of surprises, but we should never cease experimenting and exploring different avenues.
The final speaker, Ms. Iron Sharmila, a civil rights activist and poet, inspired us with the story of her fight against policies that she felt were unjust. Her words about the realisation of how privileged we are is the first step to making a difference, really resonated with us.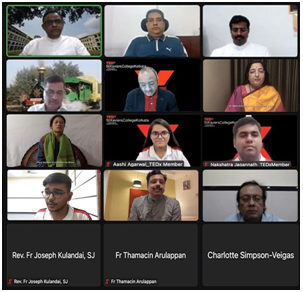 After the TEDx Talks, one of our beloved mentors, Rev. Fr. Peter Arockiam, SJ, Vice-Principal, Department of Commerce (Evening) conveyed his heartfelt gratitude to those who put in tireless efforts into the event.